Dr. Fauci Agrees: Vitamin C Lessens 'Your Susceptibility to Infection' and Only One Energy Shot Has 100% of Your DV
Vitamin Energy® Immune+ gives you vitamins to support your immune health plus consistent caffeine in every shot with no sugar and no crash
Every day, like clockwork, my energy used to crash around 4:00 or 5:00 in the afternoon.
This was the worst possible timing because that was exactly when I needed my energy to be at its peak! I had to motivate myself to the gym before rushing to pick up my kids and then get dinner prepared by a reasonable hour. But instead of racing across the finish line of my day, I had to muddle through it while feeling completely sluggish.
Now don't get me wrong, I love coffee but that second cup in the afternoon just doesn't taste or go down that easily.
This all changed when I discovered Vitamin Energy's® Immune+ energy shot.
Immune+ is a 2 oz energy shot that not only solved my late afternoon energy crash but also provided me with vitamins B and C that I was trying to weave into my diet.
What does my day look like with Immune+?
Now I take Immune+ late in the morning just when my energy is starting to fade. After only one shot, I can coast the rest of the day with a steady wave of energy that helps me think, problem-solve and puts the "wind in my sails".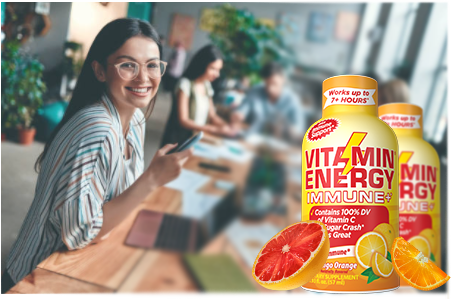 It's hard to describe, but the energy I feel from Immune+ is different than what I get from other caffeinated drinks. It's steadier and more focused rather than the jittery feeling I get from coffee.
I think part of the reason Immune+ works so well for me is because there is a specific amount of caffeine in every shot -- I know exactly how much caffeine I am getting every time.
With a cup of coffee, the level of caffeine is rarely consistent. Sometimes it doesn't have enough to get me going, and other times it has me tapping my feet with a nervous energy that ruins my concentration.
That's not the case with Immune+. It gives me a smooth and consistent flow of energy every time that carries me for up to 7 hours of my day.
But that's not the only reason I drink it.
I just saw a recent interview where Dr. Fauci, a leading US expert in infectious disease, said that he took vitamin C supplements to keep a healthy immune system, and recommends that we take our vitamins now that school has started and flu season is nearing.
I didn't want to just take Dr. Fauci's word for it, so I did some digging online and discovered that there's a large body of research supporting Fauci's recommendations. Studies suggest Vitamin C is one of your best bets for supplementing immune health.
Of course there's no 'cure-all' against COVID-19, but that doesn't mean we shouldn't take every precaution that's available to us (especially when it's conveniently available!).
As it turns out, Immune+ comes loaded with Vitamin C, Vitamin B12, B6 and B3 so it gives me a convenient way to get the vitamins that I was trying to work into my diet anyway.
Not only that, Vitamin Energy® has a bunch of delicious flavors that I actually enjoy and look forward to each day … especially when compared to a cup of bitter-tasting coffee.
On a hot day, a steaming cup of coffee is the last thing I want before I exercise. Plus, coffee sometimes leaves me with bad breath! Immune+ has an amazing and refreshing flavor but contains absolutely no sugar.
So how is YOUR energy level throughout the day?
Do you have all the energy you need to tackle your daily tasks or do you find yourself fading towards the end of the day?
If you're looking for a convenient and refreshing way to boost your energy level without any sugar, then you should try Vitamin Energy's® Immune+.
Right now you can get a 12-pack of Vitamin Energy® Immune+ for only $29.95 ... that's 17% less than buying them individually off the shelf. If you buy more, you can save up to 40%!
This deal is online only and shipping is free. Order it today and it will arrive at your door in 3 days or less.
Don't wait on trying Immune+ because this is a limited time offer ... Get the vitamins you want and the energy you need with Vitamin Energy®
Carpe Diem!
Benefits
always non-gmo

taste great

no sugar crash

keto friendly
THIS IS AN ADVERTISEMENT AND NOT AN ACTUAL NEWS ARTICLE, BLOG, OR CONSUMER PROTECTION UPDATE