Shop Top selling bundles
Total $29.95

Normally

$35.88
Vitamin Energy® 8 Pack, 2 of each: Immune+, Focus+, Mood+, B12 14,000% test
Includes 4 Cases with 12 Burner+ shots each. Thermogenic Fat Burning formula that boosts energy up to 7+ hours
12 Bottles Bundle
(+1 FREE 8H Sleep Shot)
In Stock
FREE SHIPPING - On orders Over $39
Includes 4 Cases with 12 Burner+ shots each. Thermogenic Fat Burning formula that boosts energy up to 7+ hours
Includes 4 Cases with 12 Burner+ shots each. Thermogenic Fat Burning formula that boosts energy up to 7+ hours
Total $29.95 Normally

$35.88

---
17% OFF
UP TO 7+ HOURS
OF ENERGY
PACKED WITH BODY NOURISHING VITAMINS
TASTES
GREAT
KETO
FRIENDLY
NO SUGAR
CRASH
We are proud that Vitamin Energy® is Keto Friendly, Vegan, Gluten-Free, and Non-GMO. It's Energy, with Benefits™
Customers Reviews
Brad's Feedback
Love the product. Shipping takes too long to arrive after ordered. Also, after shaking still see residuals at bottom of bottle.
Works wonderfully
Really enjoy the taste and the benefits.
I am a lifelong skeptic (but ...)
I am a long time (10+ yrs) user of several brands of "energy shots" (the big one 5HE, then changed to Costco's version). I ordered Vitamin Energy Burner+ recently after seeing a promotion for it.
After 5 days, I am actually pleasantly surprised. I haven't counted the hours of energy, but there is something different about how it feels, how long it lasts. Am I losing weight? Yes, but I am also eating differently. I am quickly becoming a believer in Burner+.
Also, had a small issue and reached out to customer support - they were very responsive (within 12 hrs) and immediately shipped out what was missing. A++ (Sara)
All of the Vitamin Energy® benefits
Packed in 1 convenient shot
Helps Achieve a Healthier Physique
With 0 sugar and 0 net carbs, Vitamin Energy® is designed as a keto friendly supplement that supports weight loss.
Convenient to Drink
Vitamin Energy® is packed in a small 1.93 fl. oz bottle that can fit in your pocket. When ready to drink, simply shake it and take it.
For a

Healthy Gut

The antioxidant properties of polyphenols make for promising candidates for the treatment of an inflammatory gut.
No Sugar Crash
Made with your health in mind without compromising taste, Vitamin Energy® shots contain 0 sugar.
Up to

7+ Hours of Energy

Packed with 260mg of natural caffeine, you'll energize up to 7+ hours.
Supports

Immune Health

B vitamins, including B12 and B6, are important for healthy immune response according to healthline. Vitamin Energy® packs B vitamins along with many other vitamins.
Tastes Great
Taste the healthy deliciousness in every super-infused Vitamin Energy® shot.
Fast Acting
Vitamin Energy® goes down in a quick sip and is instantly absorbed in your body, making it a fast acting energizer.
Healthy Nutrient Metabolism
The Vitamin B12 in Vitamin Energy® Shots helps your body metabolize nutrients more effectively.
No Belly Bloating
Avoid the bloating from drinking 16 ounces of an energy drink by drinking a small but powerful 1.93 fl ounce Vitamin Energy Shot!
Vitamin Energy® Vs Others
 7+ Hours of Natural Energy
Less than $1.46 per shot
packed with nourishing vitamins
Yummy Fruit Taste
Zero Sugar
Energy without Jitters
100% Money Back Guarantee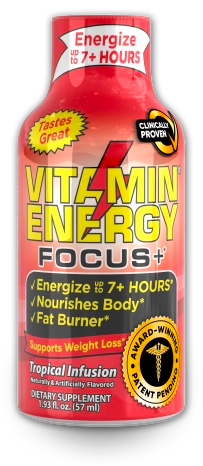 vitamin energy® shots

OTHER ENERGY SHOTS*


ENERGY DRINKS*

COFFEE*

Compared to some of the variations of coffee, energy shot, and energy drink brands.*
SHOP NOW
All transactions secured and encrypted
Limited Time Offer
Receive 1 FREE
8 Hour Sleep Shot
with every order.
For a limited time you can try out
one of our best shots with your order.